To explain the concept of pressure, how pressure is calculated and the operation of pressure gauges.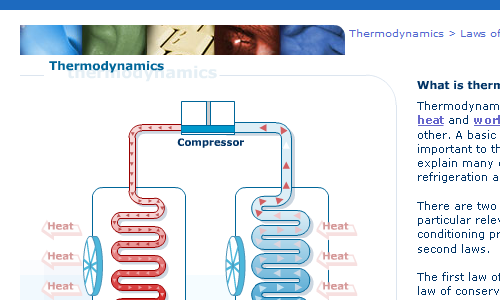 By the end of this topic you will be able to:
Explain the First and Second Laws of Thermodynamics
Define the terms Sensible Heat, Latent Heat and Superheat
Define Specific Heat and Calculate the heat quantity of a substance required to bring about a specified temperature change
Explain the heat transfer processes of Conduction, Convection and Radiation and how they differ
Explain the units for measuring temperature and the concept of Absolute Temperature
Pre-requisite Study:
Areas covered in this module:
Laws
Heat, Energy & Temperature
Specific Heat & Specific Quantity
Methods of Heat Transfer
Measuring Temperature
Summary
Quiz
Refrigeration Fundamentals Courses
The Refrigeration training course series is intended for users who want to improve or acquire Knowledge and skills in Refrigeration basics and the refrigeration cycle. You will learn how theoretical refrigeration principles and laws knowledge are applied within the refrigeration industry. It will test your understanding of basic theory and the underlying principles behind refrigeration and air conditioning systems.
The Refrigeration course is free and you can undertake all of the four online modules that form part of the course by clicking the "Buy" buttom and selecting "buy bundle".
Accreditation/Certification
The content of this course has been independently certified as conforming to universally accepted Continuous Professional Development (CPD) guidelines. On successful completion of the courses you will get a CPD Diploma certified for Continuing Professional Development by The Construction CPD Certification Service and The Chartered Institution of Building Services Engineers.
Note:this refrigeration training course is not a full qualification. To obtain a Refrigeration qualification you will be required to undertake additional practical training and assessment at an accredited test centre.
Duration
2-3 hours to complete (depending on learning speed).
Target Audience
Anyone interested in working with refrigeration, air conditioning and heating systems or wishing to get a basic understading of the refrigeration cycle. The module within this course can be used either as induction, awareness, refresher and foundation training.
Also, associated trades within the Building Services sector such as electrical engineers, plumbers and mechanics who are likely to be involved with Refrigeration and air conditioning systems and controls and would benefit from understanding basic system operation. This would assist engineers in spotting any issues with the systems before incidents occur, helping reduce customer's loses and costs by adopting a pro-active rather than re-active approach.
Entry Requirements
There is no entry requirements.